Doug Garr, Meg's husband, was a business associate of mine. He became a close friend a number of years ago. Eliot and I were big admirers of Meg. She was a remarkable gal, so beautiful, so smart. We will miss her. Doug is lost without Meg. He was a devoted and very special husband. We wish him only the best

Meg Perlman, First Director of the Pollock-Krasner House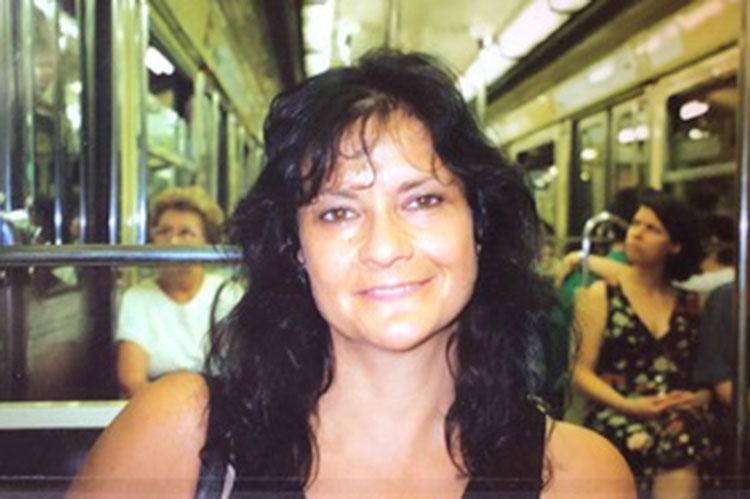 By Mark Segal
June 11, 2021
Three years after Lee Krasner's death in 1984, her executors deeded the house she shared with Jackson Pollock to the Stony Brook Foundation. When The New York Times announced the donation, it noted that Meg Perlman, an art historian and curator, had already been appointed director of what became the Pollock-Krasner House and Study Center.
In November 1987, after removing a small piece of Masonite from the floor of the property's studio, Ms. Perlman had a hunch, "aroused by a story told by the East Hampton painter Alfonso Ossorio and augmented by the study of Hans Namuth's series of photographs of the studio," The Star reported at the time.
Within a month, conservators removed both the Masonite and a layer of tar paper that had covered the wooden floor since 1954. "It's a document of Pollock's presence here," Ms. Perlman told The Times. "Cezanne had an easel, and if you go to Cezanne's studio, you see an easel. But if you come to Jackson Pollock's studio, you see a floor, because that's where he worked."
The floor's surface is marked with splashes and trails of paint. "There's so much energy on that floor, it's amazing," Ms. Perlman said, but she also stressed that while it might resemble some of Pollock's paintings, it was not a work of art. It signifies "the activity of the artist, which is often recorded by what doesn't make it onto the canvas."
"Meg foresaw what the Pollock-Krasner House and Study Center could become, and laid the firm foundation for its realization," said Helen A. Harrison, who has been the center's director since 1990. "She discovered the buried treasure that is the studio floor, oversaw its conservation, created the studio exhibition that illuminates the two artists' lives and work, established public programming, and began building the research collections. I'm honored to have helped fulfill her vision."
Meg Perlman, who was the house and study center's founding director until 1989, died on June 1 at Mount Sinai Hospital in Manhattan at 71. Her death was attributed to complications of an aortic dissection that occurred in January.
She and her husband, Doug Garr, who survives, rented in East Hampton for three years before buying land and building a house in Settlers Landing in 1984.
"I knew Meg had hit nirvana," Mr. Garr wrote, "when we got lost somewhere on the way, and Meg said, 'Let's ask this guy on the bicycle for directions.' It was an older gentleman in painter's appropriately spattered coveralls. Meg just gasped and said, 'That was Willem de Kooning!' "
Ms. Perlman was the director of the James Brooks and Charlotte Parks Brooks Foundation from 1998 to 2005. During a 40-year period beginning in 1980, she served as the curator of a number of important private art collections, including those of William A.M. Burden, Mrs. John D. Rockefeller III, Sandra Rockefeller Ferry, Senator and Mrs. John D. Rockefeller IV, and the Pierre Noel Matisse Trust, among others.
Meg Perlman was born on Jan. 18, 1950, at Beth Israel Hospital in Manhattan to Jack M. Perlman and the former Marilyn Cohen. She grew up in Scarsdale, N.Y., attended public schools there, and earned a B.A. with honors in art history at Brandeis University.
In 1973, after attending the Institute in Arts Administration at the Harvard Business School, she received a master's degree in 20th-century art from the Institute of Fine Arts at New York University. A year later she was awarded a certificate in museum training by the Metropolitan Museum of Art and the Institute of Fine Arts.
Mr. Garr recalled that when his wife first learned that Pollock and Krasner's house was in jeopardy because Krasner had no direct heirs to inherit the property, "she said, 'Somebody has to do something about this.' I gave her this look, like, why don't you?"
She and Mr. Garr were married on June 29, 1979, in New York City. They have one son, Jake Perlman-Garr of Manhattan. Other survivors include a sister, Beth Perlman of Montclair, N.J., and a brother, Noah Perlman of Sudbury, Mass., as well as nieces, nephews, and "too many wonderful first cousins to mention," her husband said.
Memorial donations have been suggested to the Stony Brook Foundation, Pollock-Krasner House and Study Center, 830 Springs-Fireplace Road, East Hampton 11937, or the American Stroke Foundation, 6405 Metcalf Avenue, Suite 214, Overland Park, Kan. 66202