Two of our clients are boarding a plane to Paris this week to see this IRL. This is going to be spectacular.
https://www.nytimes.com/2021/09/17/arts/design/christo-wrap-arc-de-triomphe-paris.html?referringSource=articleShare
——————————————-
——————————————-
I had no idea that when our PR company, HWH PR, represented Susan Polis Schutz for her memoir that her young son would become Governor of Colorado one day. Susan, and her husband Stephen, founded Blue Mountain Greeting Cards.
Gov. Jared Polis and Marlon Reis married on Wednesday after 18 years together.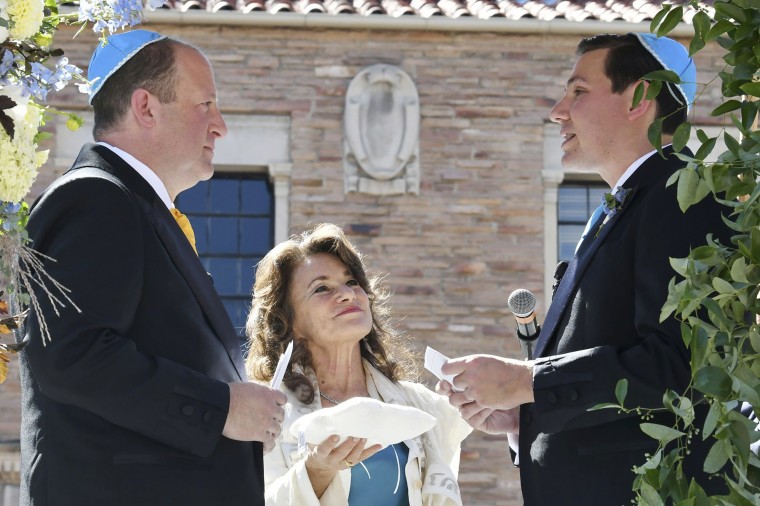 Rabbi Tirzah Firestone, center, officiates a traditional Jewish wedding ceremony for Colorado Gov. Jared Polis, left, and his partner, Marlon Reis, in Boulder, Colo. on Sept. 15, 2021.
Colorado Gov. Jared Polis, the first openly gay man elected governor in the United States, has married his longtime partner in the first same-sex marriage for a sitting governor.
Polis and Marlon Reis, who have been together for 18 years and were engaged in December, wed in a small traditional Jewish ceremony Wednesday, the governor's office said.
"The greatest lesson we have learned over the past 18 months is that life as we know it can change in an instant. We are thankful for the health and well-being of our family and friends, and the opportunity to celebrate our life together as a married couple," they said in a joint statement.
Polis, a Democrat, was elected governor in November 2018 and sworn in the following January. He previously served as a U.S. representative.
The couple was engaged in this winter before Reis was admitted to a hospital with Covid-19, NBC affiliate KUSA of Denver reported. Polis was also diagnosed with the disease but did not suffer severe symptoms. They are parents of two children, ages 7 and 9.
"We are both excited for this new chapter in our lives together, and our hearts are full with the blessings of health, love, and family," Polis said in a Facebook post.
Polis is the first gay man elected governor in the country, but Oregon Gov. Kate Brown, a Democrat who identifies as bisexual, was the first openly LGBT person to be elected governor in 2016.
Wednesday's ceremony marked the first same-sex marriage of a sitting governor. Former Rep. Barney Frank, D-Mass., was the first sitting member of Congress to marry someone of the same sex in 2012.
Susan Polis Schutz (née Polis; born May 23, 1944) is an American poet, film maker and businesswoman who co-founded the greeting card and book publisher Blue Mountain Arts. She is the mother of Colorado Governor Jared Polis.
Stephen Schutz is an avid conservationist as well as an accomplished artist, photographer, and calligrapher. A native New Yorker, he spent his early years studying drawing and lettering as a student at the High School of Music and Art in New York City. He went on to attend M.I.T., where he received his undergraduate degree in physics. During this time, he continued to pursue his great interest in art by taking classes at the Boston Museum of Fine Art. He later entered Princeton University where he earned his PhD in theoretical physics. In addition to designing and illustrating all of Susan's books, Stephen is the genius behind bluemountain.com—the Internet greeting card service he created and cofounded with the help of his and Susan's elder son, Jared—which became one of the most popular and widely visited websites in the world. He holds a patent for his 5-D™ Stereograms, which are innovative, computer-generated illustrations and photographs containing hidden, multidimensional images that seem to "come alive."
Together, Susan and Stephen are the cofounders of Blue Mountain Arts, the internationally renowned publisher known for its distinctive greeting cards, gifts, and poetry books. In her 2004 autobiography, Blue Mountain: Turning Dreams Into Reality, Susan recounts how she and Stephen met in 1965 at a social event at Princeton. Together, they participated in peace movements and anti-war demonstrations to voice their strong feelings against war and destruction of any kind. They motorcycled around the farmlands of New Jersey and spent many hours outdoors with each other enjoying their deep love and appreciation of nature. They daydreamed of how life should be.