What's the update on Donatella Versace, Iman, Manolo Blahnik
FROM THE MAGAZINE
Donatella Versace Finds Strength in Failure
byAndrea WhittlePhotographed byMert Alas and Marcus Piggott10.12.21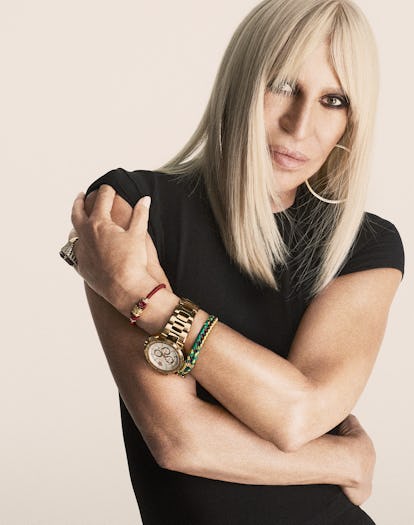 Donatella Versace wears her own clothing and jewelry. Retouching: Dreamer Post.
For our annual "The Originals" issue, we asked creatives—pioneers in the fields of art, design, fashion, comedy, activism, and more—to share their insights on staying true to themselves. Read all of this year's interviews here.
Looking back at your career, what do you consider some of the biggest barriers you have broken as a fashion designer?null
To be honest, I do not think there were many fashion barriers left after my brother Gianni. If anything, I am still trying to inspire confidence in men and women through my collections. We live in a moment in which the barriers we need to overcome are discrimination, hate against race or sexual orientation, body shaming.
What does originality mean to you?
Being unapologetic to yourself.
Do you have a style icon?
If I have to select a single person, out of the ones I've been lucky enough to meet in my life, I would choose Prince! He understood the power of fashion, the power of one's image, like no other. In many ways he reminded me of Gianni, because they both lived in a time when there were a lot of taboos and impermissible behaviors and views around fashion, and neither of them gave any importance to that. Prince was a "pure" artist in that sense. He did not allow others' opinions to affect him or his fashion choices. All he cared about was his art, his music, and being himself. If that entailed wearing high heels and makeup, then so be it.
Who was the first person who made you realize you could break the rules?
I had to get to that conclusion by myself. I did not choose this career path; it was forced on me because of what happened to my brother. In many ways, I felt like I owed it to him, that I was supposed to continue what he started and celebrate his work and what he created. But no one believed I could actually do it. For many years, I felt like everyone was expecting me to fail. And I did fail! But today I know that failing is just part of the process, and the challenging part is making sure you pick yourself up. Every time I did, I felt stronger. Once I made peace with my past, I was able to find my own voice. That's when I really started to do what I wanted. I brought back the iconic prints of Gianni in my own way, and created new ones. Today I can say that what you see on the runway is truly an expression of who I am.
What is the most unoriginal thing people ask you?
"How do you pronounce 'Versace'?"
What inspires you about your children's generation?
Their ability to comprehend technology, and to make it fun and so easy to use. Well, it's also kind of unnerving. I mean, I love technology, but I am not very good at it. I try, but still… I feel the younger generations were born with a smartphone in their hands, and what they do with technology is amazing. Take virtual reality, AI, or special effects, for example. These have now become part of our daily reality in many ways. I also admire how so many have had the courage to use technology to amplify their voice and beliefs. They have made us stop and think about the impact we have in this world. I love how involved they are with their communities and how they have utilized different platforms to debate and educate the public on subjects like sustainability, diversity, and climate change. They understand that our communities and planet need to be nourished, because that's the one they will inherit. It's amazing, don't you think?
———————————————————————-
Iman Has Spent a Lifetime Building Her Own Seat at the Table
The legendary supermodel has broken barriers in the modeling, fashion, and beauty industries for decades. By no means is she done yet.byClover HopePhotographed byCampbell AddyStyled byChristina Holevas10.12.21
---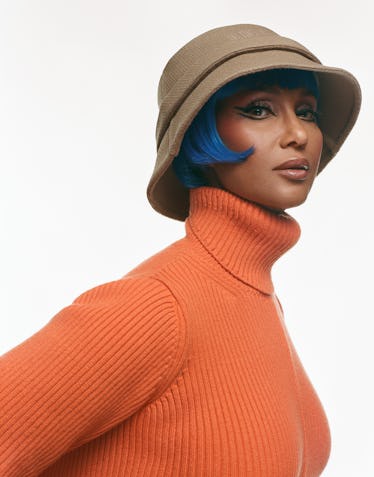 Iman wears a Marc Jacobs sweater and hat.
For our annual "The Originals" issue, we asked creatives—pioneers in the fields of art, design, fashion, comedy, activism, and more—to share their insights on staying true to themselves. Read all of this year's interviews here.
You've been an icon for decades: You became a boundary-breaking supermodel in the 1970s, and established yourself as a businesswoman and humanitarian in the years since. In 1994, you launched IMAN Cosmetics for women of color, but only recently has the beauty industry caught up and become more inclusive. Why did it take so long?
First, we should give due credit to the '70s makeup brand Fashion Fair, which was exclusively for Black women. What I created was for women of color. And let's not forget Rihanna; she's the one who came with 40 shades of foundation for Fenty Beauty. We have always been the masters of our own destinies. We force people to change. Less than 10 years ago, five years ago, you know, there was the idea that you had to be invited to the table. Nobody cares now. I can buy my own table. I can build my own table. And it's not just about using models. It's about hiring Black creatives, putting people in decision-making positions. We're owning how we want to be seen, not how people "should" see us.
What's the biggest barrier you've broken as a model?
A couple of months after I arrived in the United States, in 1975, I found out they were paying Black models less than our counterparts, and I said, "I'm not doing this." If I'm doing the same job as the white model, I have to be compensated. I went on strike for three months. And then, of course, they raised my rate.
What made you decide to speak up?
Being a foreigner and majoring in political science and coming from Somalia, where all of us are Black, I've never thought of myself as less than anybody. When you have that instilled in you, you're not coming from a place of want. You're coming from a place of, I have something to offer you.
What does originality mean to you?
Refusal. Independent thinking. Walking away. The person I always thought of—and this was way before we met—was my husband [the late David Bowie]. I used to go to all his shows, and I never met him until we were set up years later. He was the first artist that I thought, Wow, how original. And he's still original.
Who's a new trailblazer in fashion to you?
Anok Yai is an original. She is unapologetically herself. She's creating a space for herself. When you see her, you say, "There goes somebody different."
What does it take to be a successful model today?
There is this argument that a lot of young models who have followers in the millions—the Kendalls or the Hadids—have not gone through the same arduous steps as others. That's true. But let's not forget that these models are also hard workers. There's only so much the followers can do for you. I'm not from the school of people saying, "Oh, they don't make models as they used to." Oh no, they do! And they make them better! You have to move out of the door to let other people in. When Naomi Campbell was interviewing me once, she said, "Why did you retire?" I said, "You bitches were coming right behind me!" [Laughs] "You, Linda—it was time for me to exit gracefully."
Where do you see your influence in the beauty world?
The new generation should know where things came from. If you want to be a great model, start looking at old magazines—Black models, specifically, women of color like Naomi Sims and Donyale Luna. Naomi Sims's pictures are just as elegant and beautiful today. There is a rich history behind us.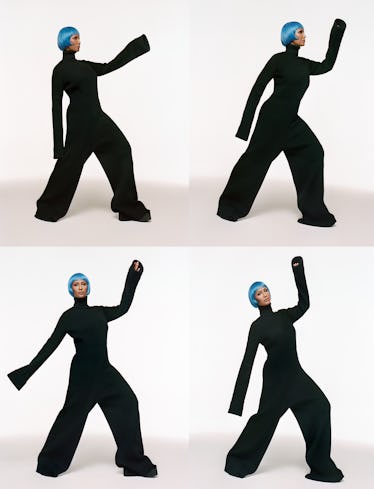 Who has been your style icon over the years?
Isabella Rossellini. She's beautiful, and she's a very dear friend of mine, but what I love about her is that as she's aged, she created this uniform. When you're talking to her, you don't see the clothes, jewelry, whatever. I love that. I have the attention span of an ant. I need to change all the time. But to me, she's a star and somebody who's still as arresting as when she was 20 years old. She has a singular style.
What was your first major fashion purchase?
The first big check I spent was on 10 pieces of Louis Vuitton luggage. Some of the trunks are like tables. I bought them in the late '70s, and I still travel with them.
What's the most prized possession in your closet?
My husband bought me a black alligator Birkin bag. I have several Birkin bags, but that one is unique
———————————————————————
FROM THE MAGAZINE
Manolo Blahnik Is Ready for the Return of Elegance
byJenny ComitaPhotographed byMisan Harriman10.12.21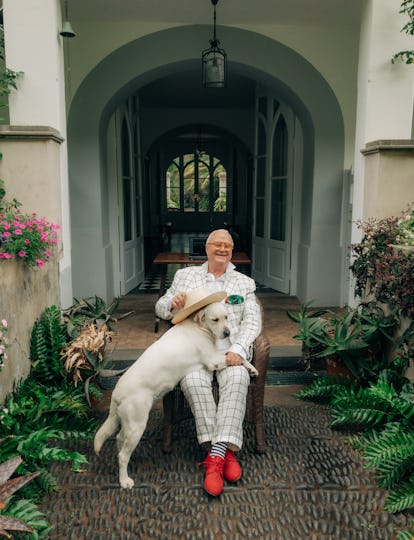 Manolo Blahnik wears his own clothing and accessories.SEE MORE FROMThe Originals Issue 2021
For our annual "The Originals" issue, we asked creatives—pioneers in the fields of art, design, fashion, comedy, activism, and more—to share their insights on staying true to themselves. Read all of this year's interviews here.
It's been a big year for you! Not only did you celebrate your 50th year in business, but you opened a big new store on Madison Avenue in New York this past spring. How did you manage to pull that off in the midst of the pandemic?
Well, I haven't really left home in two years, so I haven't even visited my bloody store! Can you imagine how tragic? It's been done by Zoom with the architect, who was in Paris giving orders to people in New York. It's been quite, quite, quite exhausting! But I really like it, based on the pictures, and I hope I can visit soon. I love New York. I always feel at home there as soon as I arrive. At the airport, all the ladies in customs say, "Oh, Mr. Blaaw-nik, when you have a sale, let me know!" It's just fantastic.
What are some of your best New York memories?
I have so many, but my favorite was visiting Rumpelmayer's, the soda fountain on Central Park South. My friends and I would go there sometimes twice a day! Everything was so beautiful and clean, and the people would say, "Oh, hi, Manolo! How are you?" When it closed, I was devastated. I thought, This is something I will never, ever have again. There was Studio 54 and all of that, but Rumpelmayer's was my New York. A tuna fish sandwich and three milkshakes—heaven!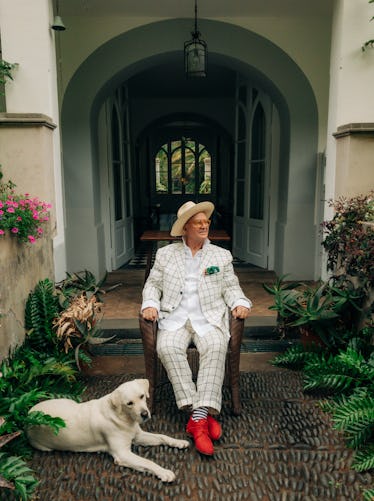 In the absence of those milkshakes, how are you indulging yourself these days?
Books! I have them up to my eyeballs in all of my homes. I don't know where to put them anymore—soon I will be buried alive! Right now I'm reading about the French Revolution, 1920s first editions in the original language. Extraordinary! And I have all the letters of Saint Teresa of Ávila, and it's wonderful—in a very old Spanish, but I understand it. I have English things, too. About 20 Lord Byron books from the 1870s that are beautiful. And a first edition of Myra Breckinridge, by Gore Vidal—signed! Once, I met Gore Vidal. He was sweet.
Whose style do you most admire these days?
I still love girls like Shalom Harlow. They're not so young anymore—I don't like those new girls now. The first time I saw Shalom, I was doing the shoes for Isaac Mizrahi—this was 100 years ago—and I saw this girl coming along, skinny, with that hair! And I thought, Oh my god, who is that? And Isaac said, "Oh, it's my new girl, Shalom!" That first impression was extraordinary—the way she moves… Not long ago, I saw a video of her dancing, and she still has it. And then, of course, the chicest woman in Europe is Amanda Harlech. She can put on a little mingy dress from Kmart, but she has divine shoes and divine hats, and that, to me, is elegance. Anything she puts on, the cheapest thing, she makes it fabulous.
Do you think elegance will make a comeback after these many months of sweatpants and sneakers?
I do. In London, people are now dressed up and going to Savile Row to have suits made. Not everyone is wearing those hideous trainers and things like that. It gives me hope that young people will go back to some kind of style. Don't forget, as long as we are human, we will want to be decorated—for ourselves; not for other people so much. When I wake up in the morning and say, I'm going to wear happy colors today, that is for myself! You can tell immediately when a person is dressing for someone other than themselves. Ugh, you can smell it in seconds!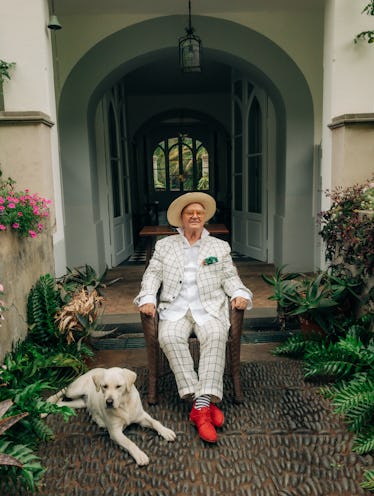 What are your dreams for the future?
I just want to be healthy and keep doing things. I don't want anything else. I have everything I want, and I have wonderful memories. My life has only been full of fantastic things, actually. Or maybe there have been horrible things, but I don't remember them. Either way, really, it's fantastic.